HEARING LOSS
I firmly believe that children with hearing loss have the ability to learn to use hearing to develop spoken language. Learning to use hearing allows them to develop language in the same way as their typical hearing peers – by hearing it all around them.
I also believe that every child is testable – no matter the age or degree of other disabilities. No child is too young to test. With current skills, we can obtain accurate hearing levels using both behavioral and electrophysiological testing, even on infants.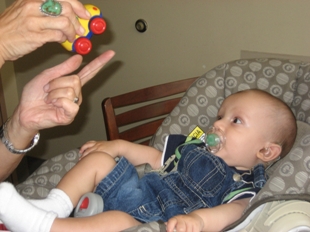 By
identifying hearing loss early,
fitting infants and children with appropriate technology,
enrolling them in an auditory based speech-language and functional listening therapy program, and
helping parents and extended family members learn to provide excellent auditory language stimulation,
most children with hearing loss can be educated in the mainstream along with their typical hearing peers. Children with additional disabilities will have more difficulty learning and may need other means of communication to develop, but utilizing hearing can still offer them the opportunity to develop their auditory skills maximally.
OTHER AUDITORY DISORDERS
Children with normal hearing can still have auditory disorders. These include auditory processing disorders, auditory attention disorders, and sound hypersensitivities. Even in the absence of hearing loss, these disorders can significantly affect the ability to learn language, to learn in the classroom and to effectively socialize with their peers. These auditory disorders need to be identified and treated in order to maximize auditory learning and performance.